On May 10th, three-days of The 17th Shenzhen (China) International Small Motor, Electric Machinery & Magnetic Materials Exhibition (Motor & Magnetic Expo for short) closing successfully. Over 400 research, development, manufacturing and detection organizations and enterprises of small motors and magnetic materials from over 20 countries were gathering at Shenzhen Convention & Exhibition Center. Meanwhile, practitioners of national small motor industry came to Shenzhen to connect trading and exchange intelligence. Motor & Magnetic Expo covers an area of 15,000 sqm with over 20 high-end concurrent events.

The exhibition scale of Motor & Magnetic Expo 2019 records high of many brand exhibitors and crowded visitors. Over 400 enterprises participate in the exhibition to display the most cutting-edge technology and products, including National Engineering Research Center for Small and Special Precision Motors, SMART, CASIC MOTOR, Guizhou Linquan Motor, Huanchi Bearing, KINGLY GEAR, BLDC, MaBuQi, Juli Automation, Welling, Ningbo Yunsheng, YIZHI CHANGTONG, JINGYU, YUJING, SINOSTEEL, BTJSCC, WSDM, MAGSUPER, Anhui Zhongma Magnetic Energy, SEN YANG, MAGTROL, WANGMU, Seeney, ChuangXinQi, JIN-KE, AIP, ANPIN SILICONE, SMARTECH AUTOMATION, HONGDA, CSRSC, ZHANG YOU TECHNOLOGY, WANTE, Tension Technology Limited, DELONG MACHINE, IDI, Anji Enterprises, CINCY, NBJJ, JINCHUAN, Jinshan Magnetic Material, XINJINGGONG, ARNOLD, One Magnet, etc. Besides, over 1000 advanced equipment and materials were showed at the exhibition, such as twenty-four axis automatic winding machine, automatic balancing correction machine, automatic optic inspection, laser doppler vibrometer, sintered NdFeB, Eight-channel high precision oscilloscop, Surface defect detection equipment for magnetic material, hybrid stepping motor, new process sintered NdFeB integrated magnetizer, nano planetary brushless gear motor, 3D Printing micro DC motor, rare earth PM motor, Ultitanium Ti motor, motor for new energy automobile, drive motor for robot and UAV, etc.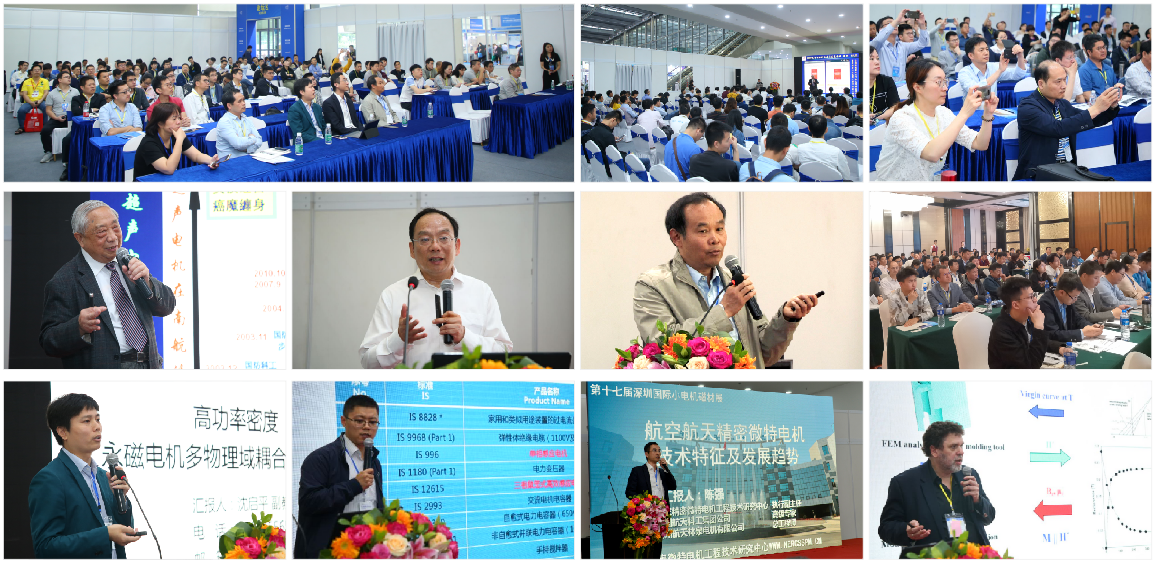 Concurrently, "Small Motor Industry Technology and Development Forum, Invitation to the 4th Motor Salon, New Technologies,New Process and New Applications of Amorphous Alloy Powders International Form, Shenzhen International Powder Metallurgy Technology Summit" and other international technical forums and activities were held. Specialists and professors of well-known authorities and enterprises were invited to make a speech, including Mr. Zhao Chunsheng, Academician of Chinese Academy of School, Pro. Liu Jinglin and Pro. Shen Qiping of National Engineering Research Center for Small and Special Precision Motors, Mr. Chen Qiang, Deputy Director of National Engineering Research Center for Small and Special Precision Motors, Pro. Yang Xiangyu, Vice President of School of Electrical Engineering, South China University of Technology (Consultant of Broad-Ocean Motor Co.,Ltd.), Mr. Zhang Chuanjia, Section Chief of Vkan Certification & Testing Co.,Ltd, Dip.-Phs. Thomas Schliesch, Head of Research and Development of MAX BAERMANN GMBH, etc. Also, they has exchanged and discussed with participants.
Over 20 purchasing groups joined in the Motor & Magnetic Expo, such as Johnson Electric, CCL MOTORS, BYD, Foxconn, HUAWEI, ZTE, AT&M, ZHONG KE SAN HUAN, AVIC, BAOWU, SAC COMPONENT, RHB-Tech, Gree, Galanz, Visiting group of The Chinese Society for Metals Amorphous Alloy Branch, Zhuhai Kaibang Motor, Welling, Sunlord Electronics, West Maple House New Energy Technology Ltd., visiting group of University of Electronic Science and Technology of China, etc.