ABM MagneticsCo.,Ltd
Booth B215
www.abm-magnetics.cn /www.abm-magnetics.com
Company Profile
ABM Magnetics Co., Ltd specialized in the manufacturing and providing engineering solution for Magnetic material and assembly. We insist on "People oriented, Resource optimizing, Value sharing, Agelong mana- gement¡± as our business philosophy. Most of our engineers worked in this field with more than ten years experiences are available here to provide customer more economical, quick and professional service. Followings are what we can do for you:
1. Supplying all kind of permanent magnets and magnetic components.
2. Providing customer with the optimum solutions in magnetic field to help them saving cost.
3. Effective quality assurance (TS/16949: five core tools(APQP,PPAP,FMEA,MASA and SPC) to ensure good quality.
4. Providing complete stimulation and testing in order to ensure products¡¯ reliability.
5. Providing the economical&fast delivery service with our internal freight department.ood quality.
Exhibits
SNdFeB Magnet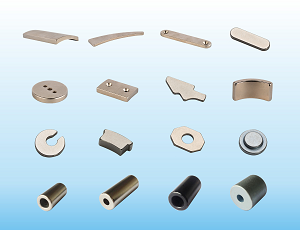 1. Higher magnetic performance than Bonded magnet
Br:11000-14500 Gs, Hci :11000-30000 Oe,BHmax:35-50MGOe
2.Coating
Ni,Ni-Cu-Ni,Zn,Ag,Au,epoxy,parylene and other special coating
3.Higher corrosion resistant after coating
Salt spray testing: 24-72 Hours
4.Working temperature
The maximum working temperature range : 80-210 degree C
5.Structure & dimension
Various sizes in Arc, Cylinder, Ring, Block and Irregular shape
6.Magnetizing pattern
Multi-poles on face alone axial, axial and Diameter cross magnetization and other special magnetizing pattern
7.Magnetic component
High precision assembling and good consistency (With steel housing, shaft and other parts )
BC NdFeB Magnet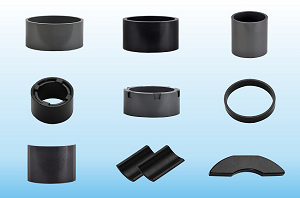 1.Higher magnetic performance than injection bonded NdFeB
2.Br:3500-8000 Gs, Hci :4000-16000 Oe,BHmax:3-12MGOe
3.Higher corrosion resistant than injection bonded NdFeB Magent,Salt spray testing:¡Ý72Hours
4. Working temperature
The maximum working temperature range : 200 degree C
5.More flexibie magnetizing pattern than sintered NdFeB magnet
Multi-poles on OD,ID&end face(alone axial), radial and Diameter cross magnetization
helix and other special magnetizing pattern
Magnetic Assemblies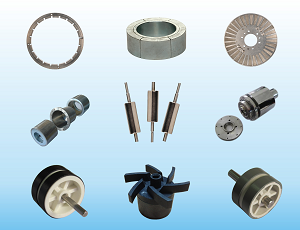 1.ABM excels at designing and manufactuing the magnetic assemblies.
2.Its components include NdFeB&SmCo magnets,shaft,sleeve,housing.
3.Using the high temperature and high adhesive force giue for assembling process.
4.Application in water or oil pump coupligs(inner and outer manget assemblies),electric drive motors,voice-coilmotor(ÒôȦµç»ú£©£¬high speed rotor,latch assemblies,NMR,sensors and encoders
5.Advantages
1£ºHigh performance
2:low weight
3:Good mechanical property
4:Good blance
Motor & Magnetic Expo, CWEXPO (short for The 18th Shenzhen (China) International Small Motor, Electric Machinery & Magnetic Materials Exhibition, 2020 Shenzhen (China) International Coil Winding, Power Supply & Electronic Transformer Exhibition) will be held at Shenzhen Convention & Exhibition Center on July 1-3, 2020 with an area of 20,000sqm. There will be over 400 representative companies, 20,000 professional visitors and 100 purchasing groups to join in.
Click here to pre-register to Exhibit
Click here to pre-register to Visit
Let us meet each on the exhibition site!